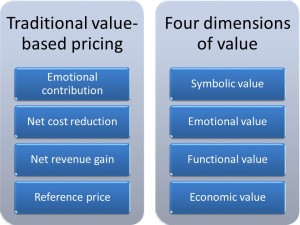 For many companies, the traditional way to set prices has been some form of cost-plus pricing. In other words, they calculate their costs, slap on a margin, and there they have a price. However, this pricing scheme has come under increasing pressure as of late, and exploration is underway into other pricing schemes.
The most prized goal at the moment is often value-based pricing: determining the value the customer is able to create with the service and adjusting the price accordingly.
In this post, I will look into what value-based pricing is and how a more sophisticated understanding of what value is can help companies on their journey towards value-based pricing.
Continue reading "Value-based pricing and the four dimensions of value"