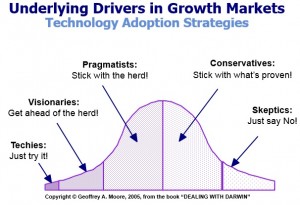 Change management is hard. As a general rule, change adoption rarely, if ever, happens overnight by simply adding a new process or technology and holding a few training sessions.
In a recent blog post (in Finnish only, sorry), Marko Suomi argued that people in organizations in general act according to the technology adoption lifecycle: some are very enthusiastic about new changes whereas others are much slower to adopt them. It is important to note that the enthusiasm of individuals varies between changes too: even a person who is generally an innovator usually does not adopt all changes first.
In this post, I wish to delve a bit deeper into how changes are adopted in organizations and what the management can do about it.
Continue reading "How to change corporate culture to be more open to change"