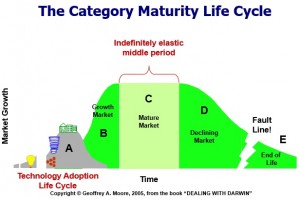 I have been looking for ways to make sense of product life cycles in environments where there are no real products as such, but in which offerings are instead tailored to customer needs. Yet, even in such environments, it is not profitable to always start from scratch, so a form of product management needs to exist, even if that management is more concerned with modules, technologies, and general applications than mass produced products.
So far, the only model I have found that seems adequate for the purpose is Geoffrey Moore's category maturity life cycle, which he presents in his book Dealing with Darwin: How Great Companies Innovate at Every Phase of Their Evolution.
In this post, I will examine this model.